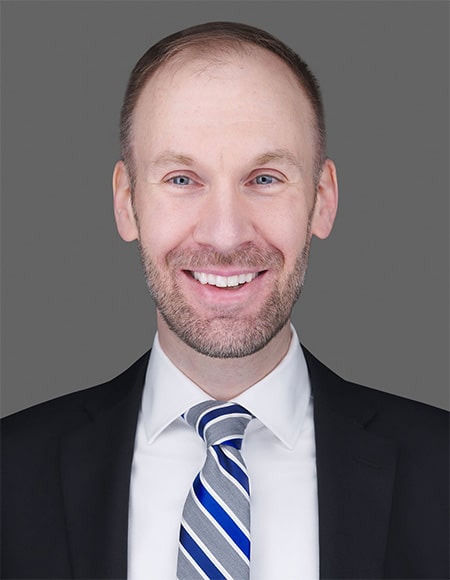 Summary
Martin Schubert is a principal at McGavin, Boyce, Bardot, Thorsen & Katz, P.C. and he enjoys the more difficult out of the box cases that require creative approaches. He focuses primarily on the defense of individuals, companies, and governmental entities in claims of personal injury and property damage, regardless of the theory of recovery.
Martin Schubert is a first generation immigrant to the United States from Germany. Speaking to him, you would not know that he is not a native English speaker, but English is in fact his second language that he had to learn after moving to the United States when he was ten years old.
Outside the office he has a passion for soccer, snow sports, and Formula 1 racing. His ambitions include anything pro-environment, be that electric cars, solar panels, a (mostly) vegetarian diet, or recycling. He enjoys spending time with his wife and son, basically doing anything of interest to the family.
Undergraduate: Marshall University, B.B.A. Marketing, Summa Cum Laude, 2004
Graduate: George Mason University School of Law J.D., Magna Cum Laude, 2010
U.S. District Court, Eastern District of Virginia (2011)
U.S. District Court, Western District of Virginia (2013)
U.S. District Court, District of Columbia (2013)
Virginia Supreme Court (2010)
District of Columbia Court of Appeals (2011)
Martindale-Hubbell AV rated Preeminent 2021 and 2022
Professional Associations & Memberships
Virginia Association of Defense Attorneys (2010 – present)
The George Mason American Inn of Court (2015 - present)
Virginia State Bar
District of Columbia Bar
Fairfax Bar Associations
Atkins v. 4940 Wisconsin, LLC, 93 A.3d 1286 (D.C. 2014).
DPOR v. Best Buy Stores, LP, 2014 Va. App. Lexis 30 (Ct. App. Feb. 4, 2014).
Mikhaylov v. Sales, 784 S.E.2d 286 (Va. 2016)
Davis v. Bryson (Gore Volunteer Fire Dept.), 2018 U.S. Dist. Lexis 69571 (W.D.Va. April 25, 2018)
Areas of Practice
Civil Litigation
Municipality and Government Litigation
Business Torts and Contract Disputes
Insurance Defense Litigation
Premises Liability
Construction Litigation
Personal Injury/Auto Accident Claims
Employment Litigation
Business Torts and Contract Disputes
Professional Liability/Malpractice