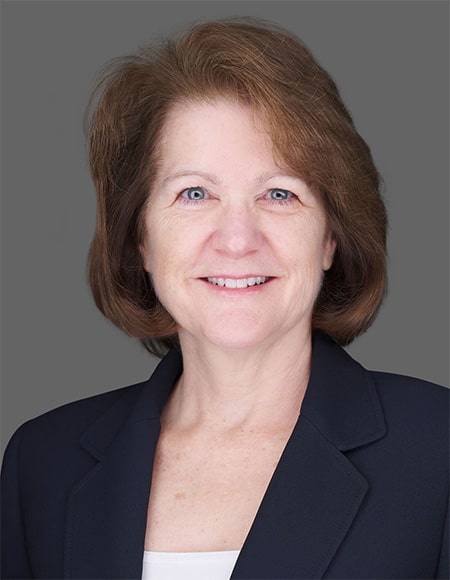 Dawn E. Boyce
Principal, Managing Partner
Summary
Dawn Boyce is a principal of McGavin, Boyce, Bardot, Thorsen & Katz, P.C. Ms. Boyce litigates in Virginia, Maryland and the District of Columbia state and federal courts. She has a diverse practice, with an emphasis on claims involving insurance coverage disputes, local government and school board litigation, and workers' compensation. She has not only tried cases in all three jurisdictions but has also handled appeals in all three jurisdictions, resulting in a number of published decisions. Ms. Boyce is a past member of the Virginia State Bar Standing Committee on Legal Ethics and currently serves on the Virginia State Bar Disciplinary Committee for the Fifth District and on the Ethics Committee for the Local Government Association. She is a Fellow of the Litigation Counsel of America and a member of the Boyd Graves Conference.
Undergraduate: College of William and Mary, B.A., 1988
Graduate: George Mason University School of Law, J.D., 1991
U.S. Supreme Court (2023)
U.S. District Court, MD (2017)
Maryland (2016)
U.S. Court of Appeals (D.C. Circuit) (2001)
U.S. District Court, W.D. Va. (2000)
U.S. District Court, D.C. (1999)
District of Columbia Court of Appeals (1993)
District of Columbia (1993)
U.S. Court of Appeals (4th Circuit) (1991)
U.S. District Court, E.D. Va. (1991)
Virginia Supreme Court (1991)
Martindale-Hubbell AV rated Preeminent
Bar Register of Preeminent Lawyers
Professional Associations & Memberships
Virginia State Bar

(Standing Committee on Ethics, 2013-2019; Vice Chair, 2016-2019; Disciplinary Committee, Fifth District, Section Ill Committee, 2019 -__; Secretary, 2020-____)

District of Columbia Bar
Maryland State Bar Association
Virginia Association of Defense Attorneys

(Chair, Auto and Premises Liability Section, 2006-2007; Board Member, 2008-2011);
Potomac Regional Director, 2009-2011; Board of Editors, Journal of Civil Litigation, 2012-___)

Virginia Bar Association
Fairfax Bar Association
DC Defense Lawyers Association
Virginia Women Attorneys Association

(Northern Virginia Chapter Judicial Co-Chair 2003-2004, Judicial Chair, 2004-2005)

Defense Research Institute
George Mason American Inn of Court, Emeritus
Virginia Workers' Compensation Inn of Court
Fellow, Litigation Counsel of America
Local Government Association (Ethics Committee 2022-2023)
Maryland State Bar Association
National Liability & Fire Insurance Co. v. State Farm Fire & Casualty Insurance Co., 734 Fed. App. 889 (4th Cir. 2018) (unpublished).
Atkins v. 4940 Wisconsin, LLC, 93 A.3d 1286 (D.C. 2014).
Estate of James v. Peyton, 277 Va. 443, 674 S.E.2d 864 (2009).
Marblex Design Int'l v. Stevens, 54 Va. App. 299,678 S.E.2d 276 (2009).
Hospice Choice, Inc. v. O'Quin, 42 Va. App. 598, 593 S.E.2d 554 (2004).
Robinson v. Samuel C. Boyd, Inc., 822 A.2d 1093 (D.C. App. 2003).
Sparshott v. Feld Entertainment, 311 F.3d 425 (D.C. Cir. 2002).
Strictly Stumps, Inc. v. Enoch, 33 Va. App. 792, 537 S.E.2d 19 (2000).
Wall St. Deli, Inc. v. O'Brien, 32 Va. App. 217, 527 S.E.2d 451 (2000).
Granados v. Windsor Dev. Corp., 257 Va. 103, 509 S.E.2d 290 (1999).
USAA Cas. Ins. Co. v. Randolph, 255 Va. 342,497 S.E.2d 744 (1998).
Liberty Mut. Ins. Co. v. Taubman Co., 81 F.3d 150 (4th Cir. 1996).
Falls Church Constr. Corp. v. Valle, 21 Va. App. 351,464 S.E.2d 517 (1995).
Nagrath v. Monroe Sys. for Bus., 65 F.3d 16 4th Cir. 1995).
Williams v. United States, 50 F.3d 299 (4th Cir. 1995).
Areas of Practice
Civil Litigation
Worker's Compensation
Insurance Law and Coverage Disputes
Contract Disputes
Local Government Law